Elucidation of the mechanism of action of Δ9-tetrahydrocannabinol derivatives from Cannabis sativa for the potential treatment of multiple sclerosis by computational methods
Elucidacija mehanizma dejstva derivata Δ9‐tetrahidrokanabinola iz Cannabis sativa u potencijalnom lečenju multiple skleroze primenom kompjuterskih metoda
Authors
Vasilić, Đorđe
Erić, Slavica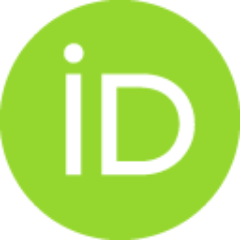 Conference object (Published version)

Abstract
Multiple sclerosis (MS) is a disease in which demyelination, neurodegeneration and gliosis occur in the central nervous system. Some constituents of Canabis sativa (CS) extracts are known to have positive effects on symptoms, reduction of progression and healing of MS, whilst roles of particular constituents in extract are not fully elucidated. Late studies show 565 constituents of CS extracts presented and divided in 11 chemical groups. The aim of this study is the investigation of physico-chemical parameters of Δ9 -tetrahydrocannabinol derivatives for further elucidation of their potential effect in treatment of MS. Structures building and geometry optimization were performed by ChemDraw Ultra 8.0 and Chem3D Pro 8.0, whilst descriptors were calculated using MarvinSketch and Codessa software. All 15 Δ9 -tetrahydrocannabinol derivatives showed lipophilicity in wide range (logP from 4.71 to 12.01), which indicates specific mechanism of resorption and bioavailability, including
...
various roles in potential reparation of myelin sheath. Steric parameters indicate wide range of energies of conformation in specific orientation of ligands and additional factors in potentially synergistic action of derivatives in distribution between agonistic and antagonistic action, as well as signalization and modulation of cannabinoid receptors. The presence of ester group in 8 derivatives of tetrahydrocannabinol implies possible role of acyl residues in reparation of myelin sheath. Results could serve as basis for further elucidation of roles of Δ9 -tetrahydrocannabinol derivatives among synergistic engineering of full extract in potential treatment of MS, which concernes both relieving symptoms and healing MS, for which certain levels of evidence exist on human models.
Multipla skleroza (MS) je obolјenje u kome dolazi do demijelinizacije, neurodegradacije i glioze u centralnom nervnom sistemu. Poznato je da ekstrakt Canabis sativa (CS) pozitivno utiče na simptome, smanjenje progresije i lečenje MS, pri čemu efekti pojedinačnih konstituenata u ukupnom dejstvu ekstrakta nisu dovoljno razjašnjeni. U novijim istraživanjima, prikazano je ukupno 565 konstituenata ekstrakta CS, svrstanih u 11 hemijskih grupa. Cilј ovog rada je proučavanje fizičko-hemijskih parametara derivata Δ9 - tetrahidrokanabinola u svrhu daljeg razjašnjavanja njihovog potencijalnog efekta u terapiji MS. Prikazivanje i geometrijska optimizacija struktura izvršeni su upotrebom programa ChemDraw Ultra 8.0 i Chem3D Pro 8.0, dok su molekluski deskriptori izračunati korišćenjem programa MarvinSketch i Codessa. Svih 15 derivata Δ9 -tetrahidrokanabinola je pokazalo lipofilnost u širem opsegu (logP od 4.71 do 12.01), što ukazuje na specifičnosti u mehanizmu resorpcije i bioraspoloživ
...
osti, ali i različite uloge u potencijalnom obnavljanju mijelinskog omotača. Sterni parametri ukazuju na širok raspon energija konformacije u specifičnoj orijentaciji liganada, dodatne faktore u potencijalno sinergističkom dejstvu konstituenata u raspodeli između agonističkog i antagonističkog dejstva, kao i u ukupnoj signalizaciji i modulaciji kanabinoidnih receptora. Prisustvo estarske grupe kod 8 derivata tetrahidrokanabinola ukazuje na mogućnost učešća acil ostatka u obnovi mijelinskog omotača. Rezultati mogu da posluže kao osnova za dalja razjašnjavanja uloge derivata Δ9 - tetrahidrokanabinola u okviru sinergističkog delovanja ukupnog ekstrakta u potencijalnoj terapiji MS, koji se ne zasniva samo na olakšanju simptoma, već i lečenju MS, za koje postoje različiti nivoi dokaza na humanim modelima.
Source:
Arhiv za farmaciju, 2022, 72, 4 suplement, S516-S517
Publisher:
Savez farmaceutskih udruženja Srbije (SFUS)
Funding / projects:
Note:
VIII Kongres farmaceuta Srbije sa međunarodnim učešćem, 12-15.10.2022. Beograd